Concrete Pressed Piers Dallas & Fort Worth
We Only Use the Best in Foundation Repair Methods
When it comes to foundation repair, there is a myriad of ways to attack your specific problem and fix it for good. Methods such as helical piers, poured footings, high-density polyurethane foam, and even mud jacking are available to North Texas homeowners and commercial business owners, and they all have their advantages and disadvantages.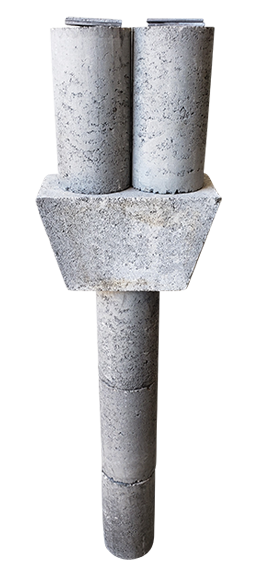 In our expert opinion, however, there is no more permanent way to repair a foundation than with concrete pressed piers.
What are concrete pressed piers?
Concrete pressed piers are pre-cast structural supports made entirely of concrete that are then pressed downward into the ground and under your foundation using a hydraulic jack. Concrete has been around for centuries. It's all around us, it's heavy, and it's capable of carrying a tremendous amount of weight. This is why RS Foundations will almost always defer to this tried-and-true method of foundation repair for both residential and commercial properties when the situation calls for it.
Pressed Piers are driven through the existing problematic soils around and under the slab until the frictional buildup is so great that the structure is lifted and supported. The way to ensure the Lifetime Warranty is to drive piers past the active zone of movement in your soil. Concrete pressed piers are designed to do exactly that.
FREE DETAILED INSPECTION
Schedule Your ​FREE, No-Obligation Estimate Today!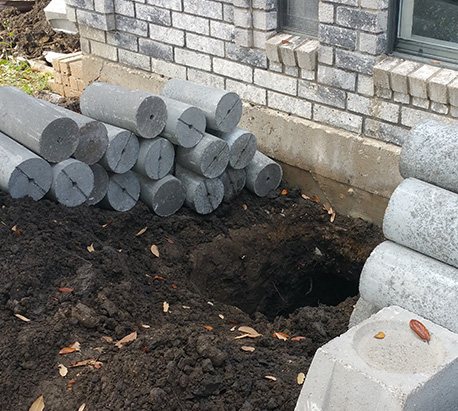 Additional benefits of concrete pressed piers include:
The ability to withstand moisture and erosion
Not allowing foundations to sink or settle
Shorter installation periods and less cost than other materials
The ability to reach a deeper depth than most other methods
It is less abrasive on your landscape
Bottom line, even though there is a slew of options when it comes to fixing your home, concrete pressed piers are the most widely-used method of foundation repair in the country. This is a particularly common method of repair in the Dallas-Fort Worth area, where the majority of homes are built upon expansive clay soil that reacts unpredictably to extreme seasonal changes.
RS Foundations is the concrete pressed peer specialist of choice in North Texas.
Call RS Foundations in Lewisville, TX today to learn more about concrete pressed piers and whether or not this method is best suited for your specific foundation repair issue. No two foundation repair issues are the same, and customers who call us report a variety of problematic warning signs, including cracks in the walls and exterior brick, doors that aren't opening as they should, and floors that are suddenly uneven. Installing concrete pressed piers will have your home or business back to pre-damage condition in no time.
Here is what the foundation repair process looks like when you call RS Foundations:
STEP 1
Call RS Foundations for a FREE, no-obligation estimate.
STEP 2
One of our trained structural analysts will arrive at the scheduled time to evaluate your home or business. This process generally takes about an hour, but we are willing to take longer to answer any questions you have.
STEP 3
Our technician will draw up a detailed program of your home and measure all areas with a Technidea Ziplevel precision altimeter, which allows us to measure differences in the foundation within 1/10 of an inch.
STEP 4
We will go over our findings with you and discuss a repair plan if foundation repair is recommended.
STEP 5
We provide a written estimate on-site along with a copy of the detailed repair plan.

We appreciate the kinds words from our customers...
"Michael from RS Foundations came to my home in Forney to givr a foundation estimate. I was nervous knowing that these types of repairs can get expensive fast. I was fortunate that I did not need any foundation work, and Michael was completely honest about that fact, and gave me some foundation watering solutions! He was extremely professional and friendly, kept me informed the entire time he was taking measurements. Obviously my situation is a good one, but you can be sure they will be honest with you, which is worth its weight in gold!! Definitely recommend!!"
- Andrew H.