Proven Expertise in Foundation Repair and Drainage Solutions in North Texas
At RS Foundations, we are not just a foundation repair company but a team of skilled professionals providing tailored drainage solutions to homeowners in the Dallas Fort Worth Metroplex, specifically focusing on North Texas. We understand the inherent challenges of the clay soil here, which behaves much like a sponge, absorbing excess water and causing issues like soil erosion and water damage. These factors can aggravate foundation issues, leading to significant structural damage. Here's how we can help:
Comprehensive inspection and analysis of existing drainage and foundation conditions
Customized drainage solutions to meet the unique needs of each property
Efficient foundation repair services to resolve issues caused by water damage
Why Drainage Systems are Essential for Properties in Fort Worth
The need for efficient drainage systems in North Texas can't be overstated. Excess water or pooling causes the expansive clay soil to swell, lifting the foundation. This can result in foundation cracks, lead a beam foundation to sink, and result in significant damage. With our vast experience as drainage contractors, we have effectively addressed many drainage problems, providing foundation repairs throughout Fort Worth, TX, and the surrounding area.
Our Approach to Drainage Solutions
Our approach to providing drainage solutions is grounded in thoroughly understanding your property's unique requirements. We offer various drainage systems to handle these needs, including French drains, channel drains, trench drains, and yard drains.
Surface Drains: We install surface drains at the low points in your yard, effectively preventing water from pooling.
Sump Pumps: For properties where the lowest point is beneath the level of the sewer line, we recommend installing sump pumps to keep the basement or crawl space dry.
French Drains: These drains are installed where surface and subsurface water must be diverted from your property.
French Drain Installation
French drains are a highly effective drainage solution to tackle soil moisture issues. A French drain is a trench filled with gravel or rock containing a perforated pipe that redirects the surface water and groundwater away from your property. Not only does this prevent potential flooding, but it also protects your property from extensive water damage, thus ensuring the integrity of your home's foundation.
Surface Drains, Channel Drains, and Catch Basins
For areas prone to standing water, surface drains are the ideal solution. When coupled with channel drains or catch basins, they effectively redirect water away from your foundation, ensuring optimal drainage and preventing potential damage to your property. Our professional drainage contractors provide proper installation and maintenance of these systems, completing each job promptly, with the ultimate goal of achieving customer satisfaction.
Securing Your Home with Downspout/Gutter Tie-Ins
Downspouts and gutters play a crucial role in a functional drainage system. They effectively direct the rainwater away from your property, protecting it from potential water damage. However, improper installation or lack of maintenance can lead to severe drainage problems. This is why we offer comprehensive Downspout/Gutter tie-in services to divert water safely from your landscaping and property.
Addressing Yard Water and Soil Erosion with Yard Drains
Soil erosion and yard water are significant challenges for property owners in Fort Worth. Installing yard drains is an effective way to mitigate these issues. These drains improve yard drainage, prevent flooding, and safeguard your property's foundation from damage.
Solutions for Foundation Cracks and Beam Foundation Issues
Our services at RS Foundations in Fort Worth go beyond drainage solutions. We understand how crucial it is to address foundation issues promptly. Our team is skilled at identifying the root cause of foundation cracks and offering practical solutions to repair them. Moreover, we address beam foundation concerns, ensuring the overall structural integrity of your property.
Root Barrier Installation for Differential Settlement Prevention
The differential settlement caused by soil shrinkage can lead to severe structural damage. To mitigate this, we install barriers that prevent tree roots from extracting moisture from the soil beneath the foundation, causing the soil to shrink unevenly. These barriers effectively protect slab-on-grade foundations from potential damage.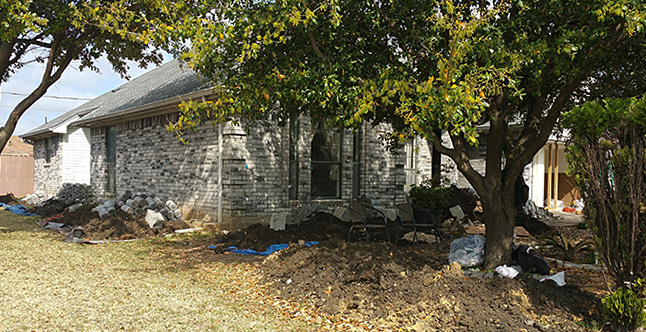 Unparalleled Customer Service
Being a locally-owned business in Fort Worth, we are committed to delivering excellent customer service. We offer a free estimate for all our services, maintaining open and transparent communication with all our clients. Our goal is to complete each project promptly without compromising the quality of our work.
RS Foundations: Your Trusted Drainage Solutions Partner
At RS Foundations, we believe in providing high-quality, professional service to all our Dallas and Fort Worth clients. Our expertise in drainage solutions and foundation repair and our commitment to customer satisfaction makes us the top choice for homeowners and businesses. Contact us today to schedule your free evaluation, and let us address your drainage and foundation concerns.