French Drain Installation in Forth Worth, TX
Solving Your Standing Water Needs
Are you grappling with standing water on your Dallas, Fort Worth property? Is your landscape's beauty being marred by poor drainage? A French drain installation might be the perfect solution for you. At RS Foundations, we specialize in installing French drains, a proven drainage system that can effectively resolve your water issues and protect your home's foundation.
What is a French Drain?
A French drain is a simple yet effective drainage solution. It's a trench filled with gravel or crushed stone and a perforated pipe. This pipe redirects surface water away from your property, preventing water from pooling in your yard and causing foundation issues. This system is handy if your property is prone to flooding or if your ground soil doesn't drain well.
Why RS Foundations is Your Best Choice for French Drain Installation
RS Foundations is the leading company for French drain installation in the Dallas, Fort Worth area. Here's why:
Unmatched Experience and Expertise
FREE DETAILED INSPECTION
Schedule Your ​FREE, No-Obligation Estimate Today!
Comprehensive Drainage Solutions
At RS Foundations, we don't just install a French drain; we provide a comprehensive drainage solution. From identifying the lowest point for water flow to installing a sump pump for additional water redirection, we ensure your drainage system is robust and reliable. We can also install a catch basin to collect surface water and channel it into the French drain system.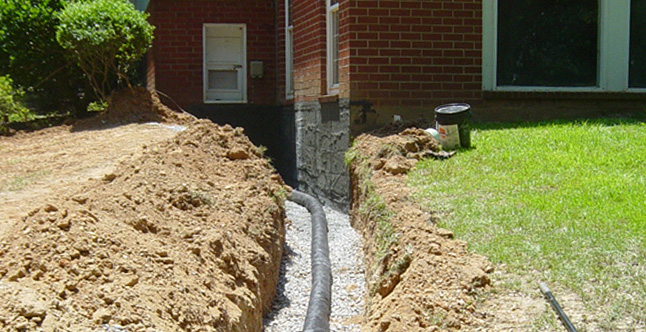 Regular Maintenance
Regular maintenance is key to keeping your French drain system functioning optimally. We offer maintenance services to prevent clogging from debris and ensure the perforated pipes remain effective.
The French Drain Installation Process
Installing a French drain involves several steps:
Site Assessment
At RS Foundations, we prioritize a meticulous approach to French drain design. We start by thoroughly assessing your property, considering factors such as slope, soil composition, and water accumulation patterns. This assessment allows us to identify the source of the drainage problem and determine the optimal location for the French drain installation, ensuring effective water management and addressing your specific needs.
Trench Digging
Next, we dig a trench from the area with standing water to the designated drainage area. The depth and length of the trench depend on your property's specific needs.
Pipe Installation
We then lay a perforated pipe along the trench. The holes in the pipe allow water to enter the system while the pipe transports the water away from your property.
Filling the Trench
Once the pipe is in place, we fill the trench with gravel or crushed stone, exposing a small portion of the pipe. The gravel acts as a filter, preventing soil and debris from entering the pipe.
Surface Restoration
After the French drain is installed, we will restore the surface of your landscape. This may involve laying sod over the drain to blend it with the rest of your lawn.
Dry Well Installation
Sometimes, we may also install a dry well at the end of the French drain. A dry well is a structure that collects water and allows it to slowly seep into the ground, further enhancing your property's drainage.
Protect Your Home's Foundation
A French drain system is not just about resolving water issues; it's about protecting your home's foundation. At RS Foundations, we understand the critical role a well-functioning drainage system plays in maintaining the integrity of your home's foundation. We are committed to providing you with a drainage solution that not only resolves your current drainage problems but also prevents future ones.
RS Foundations: Your Trusted Partner in Drainage Solutions
Don't let standing water ruin your beautiful Dallas Fort Worth landscape. Contact RS Foundations today for a professional French drain installation. We are ready to help you protect your property from the damaging effects of poor drainage. With our expertise and commitment to quality, you can rest assured that your property is in good hands.
We believe in delivering more than just a service. We provide solutions that enhance the quality of your life. A well-installed French drain can transform your property, eliminating water issues and creating a healthier environment for you and your family. Benefit from our French drain installation service and enjoy the peace of mind of knowing your property is protected from water damage.
Don't wait any longer. Contact us today and let us help you solve your drainage problems once and for all. Your satisfaction is our priority.
Here is what the foundation repair process looks like when you call RS Foundations:
STEP 1
Call RS Foundations for a FREE, no-obligation estimate.
STEP 2
One of our trained structural analysts will arrive at the scheduled time to evaluate your home or business. This process generally takes about an hour, but we are willing to take longer to answer any questions you have.
STEP 3
Our technician will draw up a detailed program of your home and measure all areas with a Technidea Ziplevel precision altimeter, which allows us to measure differences in the foundation within 1/10 of an inch.
STEP 4
We will go over our findings with you and discuss a repair plan if foundation repair is recommended.
STEP 5
We provide a written estimate on-site along with a copy of the detailed repair plan.

We appreciate the kinds words from our customers...
"Michael from RS Foundations came to my home in Forney to givr a foundation estimate. I was nervous knowing that these types of repairs can get expensive fast. I was fortunate that I did not need any foundation work, and Michael was completely honest about that fact, and gave me some foundation watering solutions! He was extremely professional and friendly, kept me informed the entire time he was taking measurements. Obviously my situation is a good one, but you can be sure they will be honest with you, which is worth its weight in gold!! Definitely recommend!!"
- Andrew H.