Revolutionizing the Steel Piers Foundation Repair Process
Concrete pressed piers may be a common method of foundation repair, but the introduction of steel to the growing list of reliable materials that can fix all of the most troublesome signs of shifting and settling has, in our opinion, revolutionized the game. Steel and concrete pressed piers are practically identical in terms of the advantages they offer, and with little to no downside, RS Foundations will turn to one or the both of them for almost every project.
The only question is which one is right for your home or business?
What are steel piers?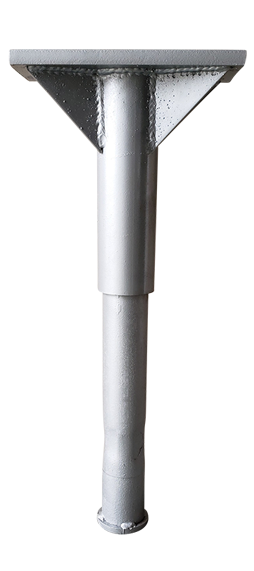 Steel piers are versatile, dependable, and are exactly what they sound like – steel. They are installed in roughly the same manner as concrete pressed piers, as they are pressed downward into the ground and under your foundation using a hydraulic jack. Steel piers are one of the best materials ever manufactured and can be pushed 75 feet into the soil, which provides fantastic support to foundations everywhere since they can support more weight and cannot be affected by soil movement like other types of foundation piers.
It is critical that steel piers be installed so they reach a depth where they reach bedrock.
A few of the benefits of steel piers include:
Unrivaled structural strength and performance
Can be pushed deeper into the ground than concrete pressed piers
Shorter installation periods
The ability to reach a deeper depth than most other methods
The ability to withstand moisture and erosion
Peace of mind
FREE DETAILED INSPECTION
Schedule Your ​FREE, No-Obligation Estimate Today!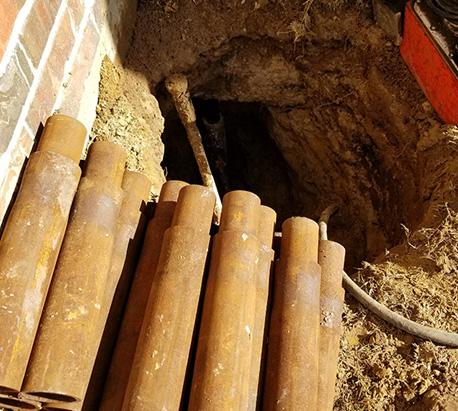 The best way to determine whether your foundation repair issue can be fixed using steel piers is to contact a reputable foundation repair specialist with more than 30 years of experience working in and around North Texas.
RS Foundations is the Steel Pier FoundationSpecialist of Choice in North Texas
Call RS Foundations in Lewisville, TX today to learn more about steel piers and whether or not this method is best suited for your specific foundation repair issue. No two foundation repair issues are the same, and customers who call us report a variety of problematic warning signs, including cracks in the walls and exterior brick, doors that aren't opening as they should, and floors that are suddenly uneven. Installing concrete pressed piers will have your home or business back to pre-damage condition in no time.
Here is what the foundation repair process looks like when you call RS Foundations:
STEP 1
Call RS Foundations for a FREE, no-obligation estimate.
STEP 2
One of our trained structural analysts will arrive at the scheduled time to evaluate your home or business. This process generally takes about an hour, but we are willing to take longer to answer any questions you have.
STEP 3
Our technician will draw up a detailed program of your home and measure all areas with a Technidea Ziplevel precision altimeter, which allows us to measure differences in the foundation within 1/10 of an inch.
STEP 4
We will go over our findings with you and discuss a repair plan if foundation repair is recommended.
STEP 5
We provide a written estimate on-site along with a copy of the detailed repair plan.

We appreciate the kinds words from our customers...
"Best foundation company I have worked with. I have used them on many homes and they have always given me the best possible service. Highly recommend them and I always recommend them with confidence to all my clients."
- Parham A.