Fort Worth Slab Foundation Repair: Why It's Needed
In the bustling city of Fort Worth, located in the heart of North Texas, foundation issues are common. At RS Foundations, we've witnessed how the fluctuating clay soils in the Dallas Fort Worth Metroplex can cause substantial damage to concrete slab foundations. These soils, known for their expansion and contraction with moisture changes, can lead to significant slab foundation problems. These problems range from unsettling uneven floors to alarming wall cracks and even a fractured chimney if neglected. It's vital to promptly address these problems to prevent further damage and uphold the structural integrity of your property.
The Importance of Accurate Foundation Repair
As a family-owned company, RS Foundations proudly provides accurate foundation repair services. We understand that foundation problems can cause significant stress and potential damage to your home or commercial property. That's why we offer a free estimate and inspection to help you understand the extent of your foundation issues and the necessary repairs. Our experienced professionals will thoroughly inspect your property, identifying any signs of foundation damage, including slab cracks, foundation heaving, and even subtle signs like a leaning fireplace. We believe in transparency and will provide a detailed report outlining the issues and recommended solutions.
How Concrete Slab Foundation Repair Ends Problems
Our team of experienced professionals at RS Foundations uses a combination of pressed concrete foundation piers and steel piers to halt fractures and stabilize your home's foundation. This process solves current problems and helps prevent future concrete and slab fractures and foundation damage. By addressing the root cause of the issue, whether it's shifting soils, tree roots, or plumbing leaks, we can ensure that your foundation is secure and stable for years to come. We also offer customized drainage solutions and root barrier installation to protect your property from potential foundation damage further.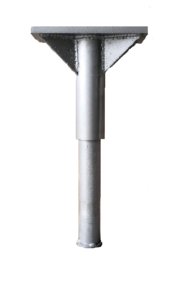 Signs of Slab Foundation Problems
Knowing the signs of problems in concrete slab foundations can help you catch issues early and avoid costly repairs. These signs may include:
Uneven floors: This can indicate that your foundation is settling or heaving.
Wall cracks: Cracks in your walls, especially wide or growing ones, can signify foundation movement.
Slab cracks: Visible cracks in your concrete slab indicate foundation problems.
Foundation heaving: Foundation heaving occurs when the soil under your foundation expands, pushing up parts of your slab.
Plumbing leaks: Leaks under your slab can erode the soil, leading to foundation problems.
Structured Foundation Repairs for Your Home or Business
We offer professional and structured foundation repairs for residential and commercial properties to ensure the stability and safety of your building. We understand that each property is unique and tailor our services to meet your needs. From slab foundation repair to pier and beam foundation repair, we have the skills and experience to handle all foundation issues.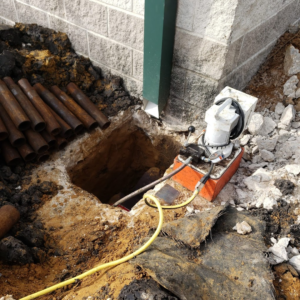 Our Slab Foundation Repair Process
At RS Foundations, we follow a systematic approach to slab foundation repair to ensure the highest quality results. Here's a brief overview of our process:
Free Inspection: We thoroughly inspect your property to identify the extent and cause of your foundation problems.
Customized Repair Plan: Based on our inspection, we develop a customized repair plan that addresses the specific issues of your property.
Preparation: We prepare the site for repair, including removing landscaping or other obstructions.
Installation of Piers: Depending on the needs of your property, we install either steel piers or concrete-pressed piers. Steel piers are driven into the ground until they reach a stable soil layer, providing solid support for your foundation. Pressed concrete piers, conversely, are sections of concrete pressed into the ground, one on top of the other to the point of refusal, providing a stable base for the foundation.
Foundation Lift: Once the piers are installed, we carefully lift the foundation back to its original level.
Cleanup and Final Inspection: After the lift, we clean up the site and conduct a final inspection to ensure the repairs are successful.
Warranty: We provide a lifetime, transferrable warranty on our work, giving you peace of mind that your investment is protected.
Why Choose RS Foundations for Slab Foundation Repair Services?
As a leader among Fort Worth, TX, concrete slab foundation repair companies, we offer solid solutions for all your needs. Our team of foundation contractors conducts a thorough inspection to identify the root cause of your foundation problems. We then provide a customized repair plan to address these issues. We use high-quality materials and proven techniques to ensure the longevity and stability of your home foundation. Plus, we stand behind our work with a lifetime, transferrable warranty, giving you peace of mind that your investment is protected.
Our Commitment to Customer Satisfaction
At RS Foundations, we are committed to ensuring customer satisfaction. We understand that dealing with foundation problems can be stressful, so we strive to make the repair process as smooth and hassle-free as possible. From your initial free inspection to the completion of your repairs, our team will be there to answer your questions, address your concerns, and ensure you are satisfied with our work. We offer a lifetime, transferrable warranty on our foundation work, so that you can have confidence in the quality of our services. Plus, we provide financing options and discounts for seniors and the military, making our services accessible to as many people as possible.
Serving the Dallas Fort Worth Metroplex
We proudly serve homeowners, business owners, property managers, realtors, and investors throughout the Dallas, Fort Worth area. Whether you need a slab foundation repair in Fort Worth or a pier and beam foundation repair in Grand Prairie, we've got you covered. Our team is familiar with the unique soil conditions in the DFW Metroplex and can provide practical solutions tailored to these conditions. We are also an exclusive vendor for Century 21, further demonstrating our reputation for quality and reliability.
Your Partner for Foundation Repair in Fort Worth
At RS Foundations, we are more than just a foundation repair company. We are your partner in maintaining the integrity of your home or business. We understand the unique challenges property owners in the DFW Metroplex face and are here to help. Contact us today to schedule a free inspection and estimate, and let us show you why we are the trusted choice for foundation repair in Fort Worth.
Remember, regarding foundation repair in Fort Worth, RS Foundations is the name you can trust. We look forward to serving you and helping you protect your property.